How to start an e-commerce for the sale of food? What do you absolutely need to know to take your first steps? Today on the Internet we can find shops that offer all types of food. This is why selling food online and succeeding probably seems complicated, but not impossible! Let's see how to create and manage a successful online food business through the practical tips in the next paragraphs.
Do you want to sell food online? Here's what to do
What can a novice online food supplier do? Anyone wishing to sell food online must be prepared to consider a series of processes and procedures ranging from production to shipping to product storage. By focusing on a few important steps, success will only depend on approving consumers' taste buds.
Check to see if you have all the requirements
The key to running a successful online food company is certainly the knowledge of the products you want to market. Once you've determined the genre, the next step is to launch it online. First, however, the test phase is necessary in which to verify the necessary requirements and test some fundamental processes in the functioning of the ecommerce platform. The main are:
The place of conservation. Store products properly, keep rooms well sanitized, cool and at the right temperature. The location determines the quality of the product supplied to customers.
The delivery. Depending on the type of product and its perishability, it will be important to determine the delivery limits, in terms of distances for example. It is important to have quality transport services such as couriers and post offices, which can offer special services designed for e-commerce.
Speed. Food must be delivered quickly to the customer. It is important to have a fast delivery model for the consumer, because agility is a big differential for the profile of those who shop online.
E-Commerce solution. Choose the best platform for the business of your products. They are not all the same! This tip actually applies regardless of the type of online business. Before opening an online shop, be sure to choose an E-Commerce with a business solution that understands the business and has intuitive models and features, as well as excellent technical support. Make sure you have a good relationship that provides an overall assessment of how customers use the site and which areas of interest.
Knowledge of products. Once you have chosen the category and which products to offer, you need to know them better. You have to become an expert of the products but also of all the needs and any problems related to it. Foods are particularly delicate products and cannot be treated like other products (fashion, accessories). Attention to detail to always offer the best in the shortest possible time and with the best quality guarantees. In the event and possibility of making international shipments, always inquire about the rules of the countries in which to send. Otherwise, some shipments may remain stationary at customs.You May also interested to know – Benefits Of Online Food Ordering System For Restaurants
Before you start selling if you really want to be successful with your E-Commerce everything must be reviewed and the processes must work harmoniously and correctly. Don't leave anything to improvisation.
Always prepare a business plan and a well-defined sales strategy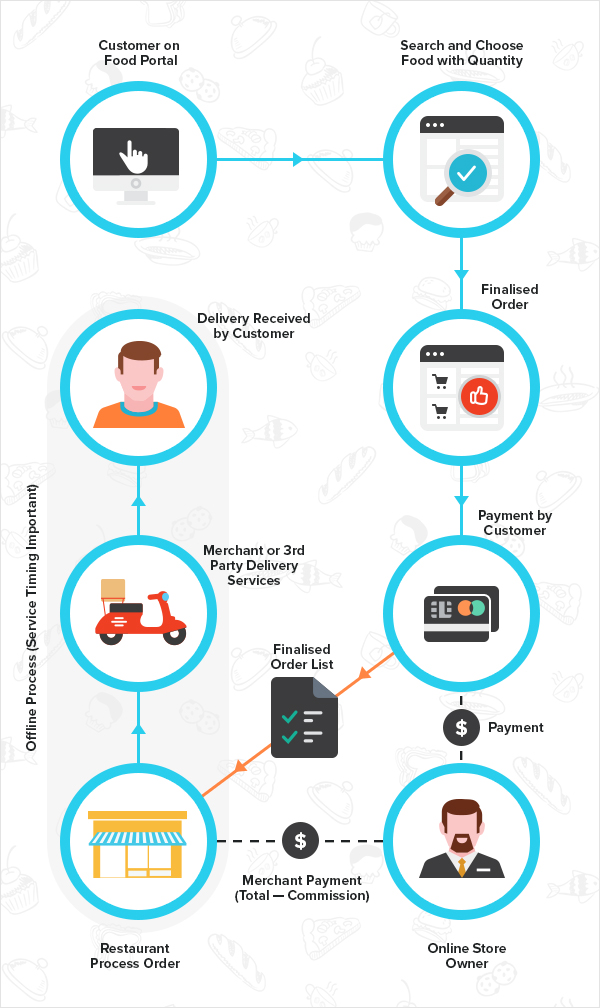 Don't leave anything to improvisation! Starting an e-commerce business is hard work, with many steps and decisions that need to be addressed at the right time. That's why the need to draw up a business plan with numerically measurable forecasts, objectives and strategies. Having the data analyzed and measured is what will define the business idea. The next step is to develop and implement a basic e-commerce marketing strategy. The positive thing is that in this way everything can be measured, this means that in the creation of a platform that sells food products, but they are not, it is essential to analyze all the actions that are performed to correct those that do not give good results or implement them of new ones. In particular:
Transmit your company's values. Your online store must immediately let your customers know who your company is, what its values ​​are and what it offers. Create an image and work to maintain and affirm it on all your channels.
Simple access. Many people are still not used to buying food online which is why if your online store looks very complicated they will give up leaving your shop. Choose an attractive but simple-to-use design where products are easy to find.
The importance of photos. Together with the previous point, for all online stores, but especially for a grocery store, having appetizing and quality photographs can make the difference. At this point, don't skimp on photographers and never choose archive photos taken from other places. Prepare your content and make it unique.
Add value with videos. In addition to quality photographs, we recommend using videos. For this you can use YouTube and prepare several product reviews or create a channel where your customers can upload their videos to show your products. The latter will be particularly interesting because to buy people online usually always consult the opinions of other users.
Make the descriptions of your products unique. Each product needs a "unique and memorable" description. This is also useful for search engine optimization (SEO). Include details (ingredients, weight, etc.), but also describe the taste. Since the prospect can't smell or taste what you're selling, which is supposedly very tasty, take it there in your own words.
Free shipping. Although we don't recommend doing this in all cases, a good option is to offer free shipping for minimum orders (for example, orders over 20 dollars). This is always an advantage for customers, who will choose to make their purchases in your online store rather than in another one where they will have to pay the shipping costs.
Good customer service. And, of course, offer the customer the possibility of constant contact via social networks, by phone or by e-mail. Your customers and potential customers must be able to contact you, ask you questions, raise problems. The better and more timely your response, the greater the chances you have of retaining customers and continuing to gain new audiences.
Study packs, packaging and labels. Do you want packaging and labels to immediately communicate your company's mission? Find a way to differentiate yourself from the crowd and if necessary, hire a designer who can help you create that unique look. Put in a picture a true reflection of who you are, make it fantastic and recognizable, being identified with a brand is the key to success!
Legal issues and licenses needed to sell food products
The legal requirements necessary to create an online store and be able to sell on the Internet are a very important aspect for anyone wishing to start an online business to look out for. But not only that, in order for a sale to be successfully completed today, it is essential to show on the seller's website, in a visible and clear way, not only the tax and legal information, but also the conditions of purchase and complete information of the products put on sale. These indications are important not only from a legal point of view but transmit security and trust to potential customers and Internet users.
To create an E-Commerce in principle, no special requirements have to be fulfilled. Any natural person registered as a freelancer, any company, association or legal entity, can be the owner of an online shop. However, all must comply with the legislation (tax, data protection, electronic commerce, etc.) of the country where the sale is to be made.
For Internet sales, substantially the same requirements as physical stores must be met, with the only exception that online stores do not have to comply with the licensing, tax and payment procedures required at street shops, which in itself is the most important advantage. We are talking about an extraordinary saving of expenses and waste of time for obtaining these licenses and permits. Knowing the regulatory references to fulfill legal obligations is a vital aspect for the creation of a food E-Commerce, above all to avoid incurring penalties.
Find really reliable suppliers (extreme attention to logistics)
The ability to process an order and ship it immediately is an absolute advantage for any e-commerce company where freshness is essential. Then, accurately evaluate what it takes to produce, package and ship your product in a timely manner. Commit to getting to know every single process of your production schedule, from start to finish. For a successful company in the e-commerce sector, it is essential to design a transportation system, which includes speed, "temperature" and costs, which suits your product. You may have to think outside the box and maybe consider insulating materials for packaging, in order to keep your product fresh, especially during the summer; but also to keep it intact during the shipping process.
In the e-commerce food industry, "compliance" and logistics, especially for perishable items, is probably the most important aspect. Having to provide guidance on when orders will be shipped and when they should arrive is vital to managing customer expectations. For example, FedEx does not deliver perishable goods over the weekend, so a delivery in a 4-5 day period will only be fulfilled if the order is placed on Monday or Tuesday.
Related Blog: On-Demand Food Delivery App: How to take your Food Business to New Heights?
Return policy and the right of withdrawal: be clear
The return policy of an e-shop is the second reason that consumers are still wary of online shopping. Therefore, having excellent reverse logistics is essential to create a good relationship with the customer and make his experience on your e-commerce site completely satisfactory. Each online shop can create its return policy. Of course, it is important to comply with a number of legal requirements. Return management must be systematized into a series of coordinated actions. For this, it is advisable to have a lean and simple process that allows you to save costs and improve the customer experience.
Some ecommerce sites provide the user with an email to manage returns; however, others already automate it from the user's control panel. The important thing is to provide an immediate channel. So, categorical imperative makes contact with you easy. Include contact information such as a phone number or email address, but not only on the return form also on your home page and elsewhere on your website. Customers appreciate being able to get in touch with you in case of problems and as a company you will have left the feeling that their concerns are important to you.
Now that you know how to take the first steps to sell food on the Internet, dive into the online universe in search of new customers. Don't hesitate, dare and sell food online! If you want more information to create your food E-Commerce, contact us today.