We are living in times when we are utterly dependent on our smartphones. Whether ordering a meal, booking movie tickets, bus tickets, booking an appointment at a salon or a restaurant, all we need is a few taps on these smart devices that we carry everywhere we go.
In their super busy lives, people are constantly moving, from one place to another, and keeping in mind their busy schedules and busy roads, it gets pretty impossible for them to let the traffic occupy their minds while they are heading for a work trip. And why just a work trip, noting the fact that the roads are so busy already, and people hardly like taking the pressure of driving in such an atmosphere. This is when taxi-booking apps come to their rescue.
The taxi-booking mobile app development companies tend to be a savior for situations when you are in no mood to drive, and still have to manage the hustle-bustle of daily lives. No wonder, more and more people today, especially the millennials are very much keen to break the traditional and have no qualms in moving towards automation.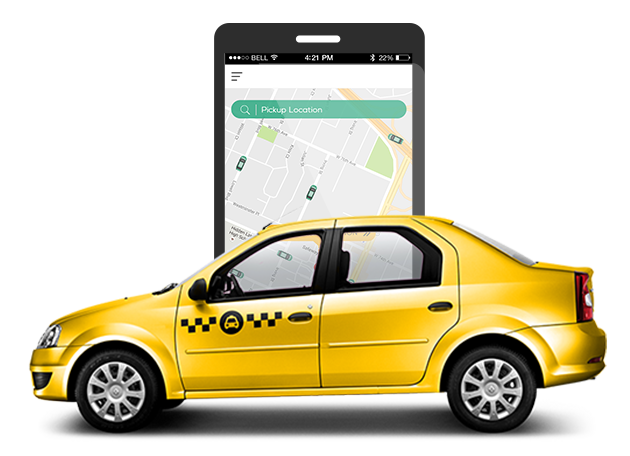 In this blog, we will be discussing in depth the market standing of a taxi booking mobile app, its business model, crucial features, cost to develop such an app, and a lot more, so stay tuned.
Market & Growth Stats
In the Taxi booking app development industry, Uber is a prominent name that changed the phenomenon of the cab industry. Today Uber spans 83 countries and 633 cities, and it has successfully made a mark for itself. Statistics reveal that in 2020, 52 million riders have enjoyed the superior functionalities offered by this concept and today its revenue stands at a massive $8.7 billion with a CAGR of 16.5%.
Taking a cue from its success, many startups, businesses and entrepreneurs came up with the ideas of similar lines for their services and products, hoping that the success gets repeated in various business models. This way, the success of Uber led to many entrepreneurs and small businesses coming up with their on-demand cab booking mobile app service and other services. These startups now know what business strategy will work for them to result in profitable revenue and better customer satisfaction.
As per other statistics, it is projected that revenue generated by the taxi services will reach 2.72 billion dollars in the US alone, by the year 2020-2022.
This way, there are no surprises over why numerous online cab aggregators today rely on the entrepreneurs who are coming up with their can booking app projects.
But before you get into this app-creating process, it is vital to fully understand the concept, technologies, and business models for a successful app launch. So let's explore.
Extend your business with Taxi Booking Apps
For a business, a cab booking app is very much like a software product that rationalizes the daily routine activities like dispatching an engaging and user-friendly User Interface. It is usually compatible with both Android and iOS platforms, and usually, such types of mobile apps have a freemium business model, where they are free to install and use, but to get the benefits of premium features, users would require signing up for the premium version.
Once the user registration is completed, they can now easily begin their search to hire cabs by using Map. A Taxi booking app comes with many features such as multiple booking, fair splitting, scheduled next cab, SMS services, multiple payment gateways, and a lot more. These options make the whole experience so easy and worthwhile.
Benefits for Users
Living in a city that is overpopulated and comes with its share of traffic troubles, common people have a really hard time struggling. Also, in the times when the time is money, waiting in a queue for long to hire a cab, ends up with people losing money. Thus, by using taxi apps, this scenario can be avoided as the concept allows the users as:
They can mark their pickup location.
They can choose their car type for the ride.
They can trace their driver's progress for the current ride.
They can split fares.
They can make instant cashless payments.
Benefits for Drivers
The scenario with drivers mostly is, they are required to wait for hours in taxi stands, streets, or other places to wait for the passengers. However, with the concept of taxi booking apps, such a scenario can be eliminated, while it also facilitates the driver to manage their time well by making them more productive. With the help of a cab booking app, drivers can:
Leverage users to request a ride.
As per their time-slots, they can accept multiple bookings.
They get the booking status confirmation via the SMS service.
They receive an instant payment.
Crucial Aspects to be kept in mind while creating a Cab Booking Mobile app
A few aspects that you need to take care of as you for Cab booking app development are:
Cars Availability:
In the case of a taxi app service, you can't just pick any car, as some cars are luxurious. Hence, it is vital to look for cars that are designed on such a concept and offer clean space and interior and can carry more luggage. The condition of the cars and their design is mandatory as per local transportation requirements.
Keep Drivers in mind:
Drivers are an essential aspect of a taxi-booking app concept, hence it must be ensured by the app that they are provided with a user-friendly interface. Well-educate them about the app and its functions, so that they can manage it easily, and can stay in touch with users in real-time. While designing the app, keep in mind that some drivers may not be tech-savvy, thus keep the app design simple and easy to use.
Car Tracking Functionality:
Customers are likely to be fully assured of their safety and the car-tracking feature makes it easy for the users to trust. Owing to this feature, the users won't hesitate to book cabs for their close ones. Besides, it is also helpful in attracting customers, as people do like following a route on the devices. This is to advise that you give your car tracking feature a realistic design.
Notifications Feature:
It is quite known that the notification feature is something that the users enjoy, as this way they are sent push notifications as Welcome Notes, Ride-time reminder, Destination & Trip-end, Payment Details, Vouchers & Offers, Thank you notes, and a lot more.
Payment Facility:
The best thing about cab booking apps is that you don't need to carry cash as you can make online payments. This is quite helpful as taxi users are well aware of the source, destination, distance and they get payment details as the ride gets over or on the way as well.
License & Insurance:
Get all the papers ready before starting the project, as this service requires a commercial driver's license from the local department. You must also ensure that everything is taken care of from insurance to registration papers of the cabs and inspection is done. This way you can ensure a safe future.
GPS & Maps:
Geo-Location service is mandatory for a taxi booking service, as customers like to keep the process transparent and ensure their safety. GPS facility is integrated with Google Maps, it is quite easier to find the fastest possible route, which saves time. While the customer is also assured that the driver is making the right move.
Having a Fresh idea is vital:
Several apps are already flourishing out there in the market, so someone must have a reason to opt for yours. Offering new features, exclusive design, and a well-structured process will make all the difference. Or one can go with great quality cars, followed by professional services and superb marketing.
Feasible Interface:
Here you'd require getting the ground information as it needs to be implemented for the interface. The best is to create a visual harmony that combines all the elements. This certainly helps in figuring out anything unwanted or tedious in your app, as no one wants an app that makes them struggle as they engage with it.
Keep Competition in mind:
Initiate a market survey before jumping into this pot of big fishes. See where you stand currently and target the area where you are keen on launching this service. In case you are from a small city or town, check it well, whether there is a requirement for taxis there.
Types of Taxi Booking Apps
Now that you have understood the crucial aspects of a Taxi-booking mobile app, next comes the type of cab-booking apps. Let's go to know them:
Cab Service Mobile App:
This type is for the businesses that already enjoy huge prominence in this arena and have their army of cars and drivers. For them, a taxi service app can be an extension of their already established business. By getting a taxi-booking app, these businesses can make it easier for the customers to book rides and this also opens them to a larger clientele. Needless to say, the app concept will bring in great comfort & ease also for the drivers.
Independent Cab-Booking Service Mobile App:
New to the car-booking arena? Well, in that case, it can be greatly beneficial for you to create an app on the lines of Uber, as obviously you don't have an army of cars here, so rather provide a mobile booking service to taxi drivers. There can be two versions to this:
Simple – Here you can provide a taxi booking solution with a simple interface for the users, where they can find driver's contact information and price estimate, along with a feature allowing them to order a cab or call directly. Additional features for this type can be Map facility, Fare Estimate, Distance, Mileage, etc.
Complex – This version is fully featured and more advanced. It requires a server and a lot of functioning in the front-end and back-end. Here the app has two versions, one is for riders and the other is for taxi drivers.
Monetization Opportunities /Revenue Models
There are different revenue models and channels through which revenue is generated. You can pick any of the below models and retain revenue and facilitate your users.
Revenue from individuals:
This one is the best optimal model for giving a better roaming facility to the users and generating revenue from it. In this model, the transportation is carried out from one source to another for a single person. Or, you can take the ride from one city to another or even share the rides.
Generate revenue from services:
There are different types of facilities for different choices of people. From small macro cab to luxury cab all kinds of cab rides are available in this model. You can offer the same service to different tastes and comfort of people and enhance your revenue.
Dynamic Pricing Model:
As the name depicts, this model is uncertain, prices are fluctuating based on the demand and traffic. Service providers can gain revenue as per the traffic rate, distance, and time to maximize their revenues, and also users can find comfort even at the peak time of the day.
Based on the above revenue-generating model, and as per your budget and suitability, you can pick any one of them.
Market Leaders
There are many global leaders in the taxi booking app market in 2021 who have a great presence for their customers.
Uber:
With over 37% of market share, Uber is one of the leading companies in providing taxi booking services. Uber is composed of great combinations of features including different cab bookings, trip sharing, adding different points to ride, scheduling rides, carpooling, etc. with the hassle-free mode of payments. It was founded in the year 2009 in San Francisco.
Ola:
Ola with a turnaround of over $200M marks a prominent mark in the industry of cab booking. It is founded by a Bangalore-based company, ANI Technologies Pvt. Ltd., is packed with several features including Ola Membership, Ola Money for easy payments during the rides, Ola Play to enjoy the ride while watching movies, and listening to music to spend their time. It provides its services to countries like India, Australia, New Zealand, etc.
Grab:
Grab has a vast market of $10B, founded by Harvard Business School students in 2012. With the presence of 3M active users, it is one of the widely used apps with services including riding and food. Their headquarters are present in Singapore.
DiDi:
It was founded by one of the former employees of Alibaba, Cheng Wei. With a market share of 33.4%, it makes a huge impact in the industry of taxi booking mobile apps after Uber. It has many advanced features including ride-sharing services, on-demand services, private car services, fleet operation, bilingual address recognition, multiple payment options, automated languages, and many more.
Hailo:
Hailo app was founded in the year 2010 by Caspar Woolley and Russ Hall, and today enjoys a revenue of $6M. It was later owned by MyTaxi, with various features including real-time tracking, integrated payment options, trip histories, etc. It has marked its presence in countries like Germany, Italy, Austria, Spain, Poland, and many others.
General Features/Panels
To start, the app consists of three panels:
Rider Panel
Driver Panel
Admin Panel
Features of Rider Panel:
Schedule Trip: This feature allows users to schedule trips in advance, as per their preferred time and convenience. This way the riders won't have to wait for the ride as it has been already booked in advance.
Preferred Driver: This way the riders can mark any preferred driver, so next time, the booking request will first go to the same driver if he is in the same or nearby area.
Favorite Destination: Using this feature, riders can mark their past-visited destinations as favorites. Then next time they have to visit this destination, they will get the marked address with a single tap on the screen.
Payment: Riders can make payments via cards or via cash. You must allow your riders to make the payment for the ride as they desire and according to their convenience.
Ride History: Users can have whole information regarding trips (completed/upcoming/canceled trips). They can also go back and check pickup and drop-off locations & fares for the specified trip.
Driver Review: This feature allows the riders to check reviews & feedback of all drivers. As per the ratings and reviews, they can select their driver for their journey.
Features of Driver's Panel:
Trip History: Using this feature, drivers can check all records of completed & canceled trips. At the same time, it allows drivers to maintain records of all of their trips and this is quite a helpful feature.
My Destination: This functionality will allow the drivers to enter predefined routes while they head back to their home so this way they will get requests coming in their home route.
Select Route: Routes can be chosen in two ways, one is Google Maps and the other is Waze Map. Drivers can choose any route suggested by these two.
Refer Driver: Drivers receive a referral code that they can share with the other drivers to take advantage of the privileges offered. Within the app, they can find the 'Invite Friends' option that can be tapped to avail code to share with friends.
SOS Contacts: This feature allows the drivers to add their emergency contacts. As soon as the driver activates the SOS feature, all of his added contacts are going to receive a text message containing the driver's current location.
Review Rider: This feature allows drivers to rate and review the rider. Even drivers should be able to review the rider on a scale of 1 to a 5-star rating and should be able to check all reviews they have given.
Features of the Admin Panel:
Manual Dispatch: This feature allows to manually assign trip requests to the drivers on behalf of riders. It can be useful when riders are in areas with a poor network, can't able to place a request for a ride, and also for the outstation customers.
Driver Transaction: This feature offers a whole weekly report of the driver's trip, commission, total earned revenue, and the total amount payable after deductions. From here, the driver's trip details can be tracked.
Manage Advance Fares: This feature is very simple to use. As per this strategy, flexible prices can be set as per specific areas, flat charges, and time.
User Interactive Dashboard: Here under this section, the admin can track everything. Using this feature, the admin can monitor all active, pending, completed, and canceled trips on the dashboard.
Driver-wise Commission: From here, Admin can set varying commission rates for varying driver groups. The functionality allows the admin to manage the commission rate of all drivers, check it and change anytime as suitable.
Admin Reports: Using this feature, the admin can check the total statistics of the trips for a defined period. They can check and track all of the trip's statistics for a certain period.

Advanced Features
To beat the constant competition of the industry, mobile apps are infused with advanced features to sustain their reliability. Let's have a look below to know some of the advanced features:
Driver Authorization: The driver gets permission before booking any ride.
Auto Dispatch Software: This is the autonomous feature where users get to know every pitch of information, users and drivers can manage their bookings.
Integrate Push Notifications: Quite a useful feature, it helps to keep the drivers and the passengers notified of the trip progress. It keeps them both notified of the happenings.
Heat Maps: Often users have a tough time finding a cab during peak hours. So what this feature can do is it shows the busiest time of certain locations, and thus users can book the cabs accordingly in advance to avoid any inconvenience.
Driver Queue Algorithm: This intelligent algorithm can find out the availability of drivers and users at a particular instance and rest the other in a queue to wait. The process is quickly executed using this algorithm.
Surge pricing: The prices of taxi booking can flow with the demand on a specific day, benefitting the taxi owners.
Loyalty Programs: This feature helps the owners to increase their profit by offering discounts, coupons, and other fancy deals and improve revenue for taxi app development cost.
Required Team Structure
A team of well-established Taxi booking app developers is close to this time for serving value driven services to the customers. The team consists of:
Project Manager: Manages the entire team and attains the coordination between clients and team.
Developers: Android and iOS developers are for handling the front end and back end of mobile apps.
Designers: UI/UX designers are creating attractive and responsive interfaces to engage new customers.
Database Programmers: They are capable of handling large databases.
QA experts: They are responsible for performing the entire testing from scratch with use cases, and coordinate with the both developer and designer to rectify any error.
Tech Stack
Languages: Java for iOS and Nagios for Android.
Other Programming Languages: React.js, Flux, Browserify.
Web Server: Aurora, Docker, and Mesos.
Libraries and Frameworks: Kafka
Image Loading: Picasso
For Development: Packer, Boto, Unison
State handling, rendering, and building: Objective C, and Swift.
Cloud Model: Terraform
Payments: Stripe, Paypal, and Braintree
For database handling: Java, C, Python, Node.js
Documentation: Kibana
Cost of Taxi Booking App Development
Usually, the common aspects on which the cost of an app depends are the complexity, its size, number of platforms for which the app is being created, but among all of these the most crucial aspect remains the region where the app is being developed.
Once we calculate it all, it is found that the taxi booking app development cost may range between $15,000 and $25,000 for an app with basic features and a single platform, whether iOS or Android. One should be willing to invest $35,000 for an app for both platforms and with advanced features to get an edge over your competitors.
Conclusion:
The arena of taxi booking apps is magnanimous and lucrative. For re-engineering your idea of a mobile app into a successful story, a choice of a reliable mobile app development team is a necessity. Get an association with a successful value-oriented company like Octal Info Solution, with large paradigms of aligned projects in the past. We are trusted by our partners, for delivering strategic and responsive mobile applications. Connect with us for more details.