While browsing Internet, we often come across websites that leave an excellent impression through its colors. On the other hand, there are many sites that have a washy impact as soon as they appear and most of us avoid lingering on such websites. Now, the question arises why does this happen? What exactly makes us feel awesome or annoying while browsing? As per experts, the color combination chosen for a website plays a crucial role in alluring or distracting users. Color leaves a magnificent impact on human mind as it establishes a communication with the viewer on many levels including emotional. It is the visual attribute to anything that emits, generates or mainly reflects light.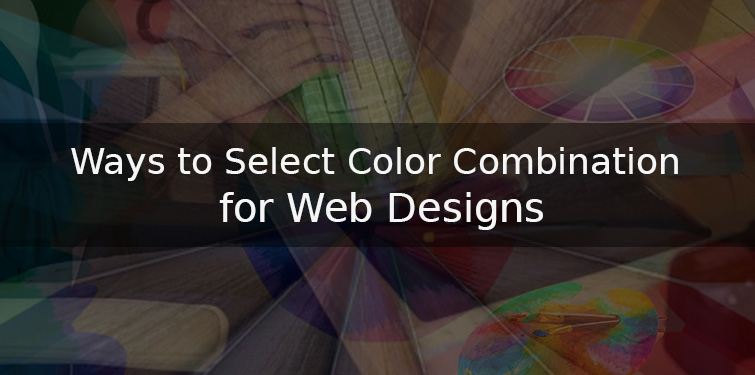 However, it is of extreme importance to know the depth of choosing the right color scheme for your website. Follow the below mentioned rules:
Select a Foundation Color
Before you decide anything, you must select a base color for the website you are going to build as it will lay the foundation of your color easel. Once this is done, the whole web design color combination of your website will take off. What exactly you want to project, what, thoughts and ideas you have is only be defined by the foundation color. You must have observed that the base color covers the large area of a brand logo e.g. white for Apple.com. The best practice one can do in order to set the right color-combination is to have the color wheel in front of him and start collating the features of colors with the product you are going to sell. For instance, if you are dealing in cosmetics then you can go for vibrant shades, but if you are selling, let's say software services then the color should be grave and sober. Moreover, explore websites, especially of your competitors, and pick needed clues from there. This will give you a clear picture of what is trending.
Illumine with an Extra Color/Shade
You must have observed that some sites are well-built and designed brilliantly, but fail to leave a significant influence at all. Thus, to have your design more alluring as well as professional, you must illumine its major parts like menu, buttons, quotes and subtitles with an extra shade.
Color blending is actually not an easy task and you can identify a perfectly synced color scheme only when you have an in-depth understanding of colors. Thanks to technology, you can get some assistance from some fine tools available online. Make sure that you pick only 1 or 2 shades to highlight because multiple accent color may confuse viewers.
What Proportion of Colors Should I Have?
Once you decide upon colors, another stop where you wander about what proportion colors should be used. Experts explain the color proportion scheme by suggesting a figure 60-30-10. This figure clearly denotes the varying degree in which three colors are used to establish a perfect harmony.
Approx the 60% of the space should be covered by the primary color for a unifying theme of the design. About 30% should go with the 60% for the contrast to have a visually impressive web design. The remaining 10% accent color should be used in order to give complement the primary or the secondary color.
What Tints and Shades Have to Do
There are times when you have to work on projects where you are bind to use more than three colors. In such cases, tints and shades can be a better option. One of the examples may be content-rich pages where you have to visually split side bars, tables and captions from the content. Once you implement this, it unifies the design with no requirement for any other color. We can bring the use of Tints and shades in to offer extra color option without having any clash with your existing color pattern.
Creative and Graphic Rich Websites
There is no rule of thumb for websites built for restaurant, design, beauty, fashion and creative industries because you have full authority to choose what strikes into your mind. You are free to pick any background image, color etc. Black menu bar can be deployed to surprise the visitors or you have all the colors of the rainbow to create more drama.
Conclusion
Before going for filling colors to your website, make sure that you keep your favorite colors aside. Selecting the right color should not also be based on what your gut feeling say about it. Remember, impressive websites are considered only those that keep their audience first. Go for the color and design that seem more appealing to the audience you are targeting. Thus, you can make an unforgettable rapport with them and outreach your opponents. Selecting a right color scheme should not be a random call; rather it should be a planned and organized endeavor to achieve the objective.